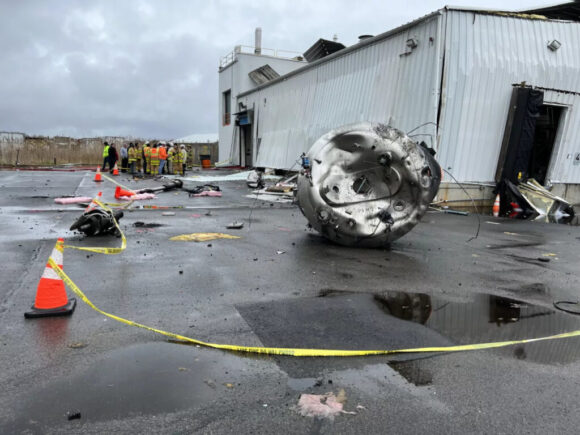 New

You can now listen to Insurance Journal articles!
The body of a worker who died in an explosion at a Newburyport, Massachusetts chemical plant has been recovered and identified.
The deceased has been identified by his family as Jack O'Keefe of Methuen. The body was recovered about 5:30 p.m. He was one of five employees who were in the building at the time of the fierce explosion. Four other workers were taken to the local hospitals, where they were treated and released.
The tragedy has raised questions about the future of the plant that is operated by pharmaceutical manufacturer Seqens, also known as PCI Synthesis, and has a history of health, safety and environmental problems.
While the fire at the facility has been extinguished, Newburyport Fire Chief Stephen H. Bradbury III said emergency crews are expected to remain at the scene of the seven-alarm hazardous materials incident at an industrial park throughout the day.
About 12:45 a.m. on Thursday, 911 operators received a report of an explosion at 9 Opportunity Way. Responding fire crews saw that an industrial-sized vat from inside the building had moved about 30 feet because of the explosion, and it was sitting in an adjacent parking lot. The explosion ripped the roof off part of the building also.
Emergency crews were met with heavy fire and dangerous conditions including hazardous chemicals and contaminated air. It took hours before they were able to safely access the part of the facility where the explosion occurred and the missing body was recovered.
"There is major structural damage to the building, preventing firefighters and technical rescue crews from entering the building to begin a search," Bradbury said.
As part of the on-going response, air meters have been set up around the scene's perimeter and they have shown no hazards in the air. Officials in this coastal city about 35 miles northeast of Boston have determined there is no current danger to the public.
The federal Occupational Safety and Health Administration (OSHA) is on scene at this time. The federal Environmental Protection Agency (EPA) and Massachusetts Department of Environmental Protection (DEP) also are assisting on scene.
The company has a history of safety and environmental violations, The factory has been cited on numerous occasions by OSHA for violations of workplace safety and health and by the EPA for violations of hazardous waste laws.
This explosion was the third at the plant since 2020. It moved to the Newburyport plant in 2005 from a facility in Leominster, where there had been two explosions.
Newburyport Mayor Sean Reardon told the Newburyport Daily News he wants the plant closed until a full investigation is completed. He questioned whether it should be allowed to reopen.
Others questioned why the plant has been allowed to keep operating given its history.
"Why are we allowing companies to continue to operate knowing that there's a laundry list of these kinds of concerns already brought to their attention?" Al Vega, chief of strategy for the Massachusetts Coalition For Occupational Safety And Health (MassCOSH), asked on WBUR radio. MassCOSH is a coalition that represents workers.
Senators Edward J. Markey and Elizabeth Warren and Representative Seth Moulton wrote to Seqens North America, the facility's owner, demanding answers about the explosion and the facility's history of serious and repeated safety violations.
"This explosion is only the latest avoidable disaster at this facility, following years of serious safety violations, multiple fines, and other explosions," the lawmakers wrote. "We write seeking the explanation as to why this latest incident occurred and how, after years of fines and regulatory enforcement actions, Seqens could have allowed unsafe conditions to persist."
The plant houses the contract development and manufacturing operations of Seqens North America. In January of this year, Seqens opened a state-of-the-art, 15,000 square-foot research and development center in Devens, Massachusetts. The new $5 million lab replaced an older, smaller lab.
Globally, Seqens operates 24 manufacturing sites and 10 research centers with 3,400 employees.
According to its website, Seqens provides active pharmaceutical ingredient and drug substance development services for pharmaceutical and medical device firms in human and animal health. It assists the firms with their pharmaceutical and biotechnology applications for "complex, niche and small molecule programs."
The company vowed to cooperate with all investigations.
Photo: Site of hazardous materials explosion in Newburyport, Mass. on May 4,2023. Photo Courtesy Newburyport Fire.
Interested in Training Development?
Get automatic alerts for this topic.