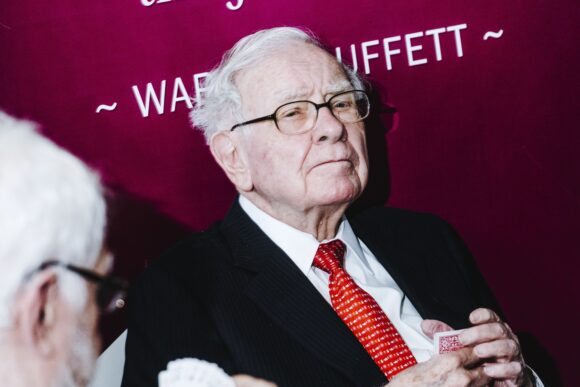 New

You can now listen to Insurance Journal articles!
Warren Buffett, whose economic insights are craved for Berkshire Hathaway Inc.'s deep ties to the American economy, had a gloomy prediction for his own businesses: the good times may be over.
The billionaire investor expects earnings at the majority of Berkshire's operations to fall this year as a long-predicted downturn slows economic activity. He made his comments at the conglomerate's annual general meeting in Omaha, Nebraska, after Berkshire posted an almost 13% gain in operating earnings to $8.07 billion for the first quarter.
"The majority of our businesses will report lower earnings this year than last year," Buffett, 92, said, before crowds of thousands at the event on Saturday. During the last six months or so, the "incredible period" for the US economy has been coming to an end, he said.
Berkshire is often seen as a proxy for economic health owing to the expansive nature of its businesses ranging from railroad to electric utilities and retail. Buffett himself has said Berkshire owes its success to the incredible growth of the US economy over the decades, but his prediction for a slowdown at his firms comes as upheaval at regional banks threatens to curtail lending as inflation and higher rates continue to bite.
Buffett's long-time business partner Charlie Munger, 99, who joined him on stage, said the more-difficult economic environment will also make it harder for value investors, who typically buy stocks that look cheap compared to the intrinsic value of the businesses.
"Get used to making less," Munger said.
Geico Revived
Still, Buffett said he expects earnings at its insurance underwriting operations — which are less correlated to business activity — to improve this year. Berkshire already reported higher earnings at those businesses including auto-insurer Geico, which swung to profitability following six quarters of losses.
Geico posted $703 million in earnings as higher average premiums and lower advertising spending contributed to the gain even as claim frequencies fell, Berkshire said in a statement reporting its earnings Saturday. That revival follows a difficult period for the underwriting business as inflation took its toll on the cost of materials and labor.
Geico has been facing particular pressure from rivals including Progressive Corp., which Buffett has called "well-run," and Allstate Corp. which had long used telematics programs to track drivers and encourage better behavior before Geico introduced the offering. Geico's profit also helped Berkshire's insurance underwriting businesses deliver $911 million in profit compared with $167 million a year earlier.
Berkshire has previously said it expected Geico to return to operating profitability in 2023, after securing premium rate increases. Still, Geico remains an issue for Berkshire, with top line growth in the quarter of less than 1% that "significantly lags peers," CFRA analyst Cathy Seifert said.
"I suspect rate hikes being put through to offset claim cost inflation is being met with policy cancellations," she said. "While the loss of unprofitable policies is not always a bad thing- that's not usually the policies — and policyholders — that leave."
Railroads, Running
Other parts of the conglomerate took a hit, with after-tax earnings from Berkshire Hathaway Energy falling 46.3% from the same time last year amid "lower earnings from the US regulated utilities, other energy businesses and real estate brokerage businesses." Railroad results were also weaker than expected due to a fall in freight volumes and higher operating expenses, according to Edward Jones analyst Jim Shanahan.
But at one of Berkshire's best known businesses, Brooks Running Co., Chief Executive Officer Jim Weber was skeptical of a steep consumer downturn.
"With unemployment being so low, it's hard to be believing we're going to fall off a cliff into a recession at the consumer level," Weber said in an interview on Friday ahead of the meeting. "I wonder if this is going to be an asset-value recession."
Berkshire bought back $4.4 billion of stock, an increase from the same period last year, as the investor's sprawling firm confronted turbulent markets that offered fewer of the blockbuster deals he's renowned for. Berkshire has turned toward buybacks more often as valuations in public markets had made it more challenging for Buffett to identify promising acquisitions.
Cash Hoard
Berkshire also topped up its cash pile, ending the quarter with roughly $130.6 billion, after finishing last year with $128.6 billion of cash on hand. The company was a net seller of equities in the quarter, pocketing $10.4 billion from stock sales after deducting purchases.
As the Federal Reserve hiked interest rates to combat inflation, Berkshire's investment earnings rose, helping overall profit increase to $35.5 billion in the quarter. Berkshire often recommends that investors look past investment gains, which are tied to accounting rules and can be misleading to investors.
"Our investment income is going to be a lot larger this year than last year, and that's built in," Buffett said at the annual meeting.
Photo: Warren Buffett, chairman and chief executive officer of Berkshire Hathaway (Bloomberg)
Copyright 2023 Bloomberg.
Topics
Profit Loss
Interested in Profit Loss?
Get automatic alerts for this topic.