Valley Insurance Agency Alliance Hires Weis as Personal Lines Coach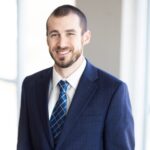 Valley Insurance Agency Alliance (VIAA) recently hired Brett Weis as personal lines coach. Weis will work with the VIAA's development team and coach new and existing team members on best practices for all property and casualty insurance issues, including coverages, claims, carriers and processes.
Weis has worked in the insurance industry for nearly ten years. Before joining VIAA, he served as a personal lines department manager at an independent insurance group serving doctors nationwide. VIAA is based in Clayton, Missouri.
Ryan Specialty Promotes VanAcker to EVP of RT Specialty
Ryan Specialty has promoted Michael VanAcker to executive vice president of RT Specialty, Ryan Specialty's wholesale brokerage and binding authority specialty. Ryan is headquartered in Chicago, Illinois.
VanAcker has over ten years of experience at Ryan as chief operating officer of Ryan Specialty and before that as RT Specialty's chief operating officer and controller. Before that, he served as director, FP&A, and manager in finance and accounting.
Topics
Excess Surplus
Was this article valuable?
Here are more articles you may enjoy.
Interested in Excess Surplus?
Get automatic alerts for this topic.