Ukraine pushed back on Russia's apparent offer to extend the landmark grain-export deal by just 60 days when it comes up for renewal later this week.
Russian and United Nations officials held discussions in Geneva on Monday as crop traders watch for news about whether the pact will remain in place. While Russia said it was open to the limited extension, Ukrainian infrastructure minister Oleksandr Kubrakov said on Twitter that the proposal contradicted the terms of the overarching agreement, which allows for renewals of at least 120 days.
The Black Sea Grain Initiative, which ensures safe passage of crop exports from three ports, has enabled Ukraine to ship out more than 24 million tons since it was sealed in July, helping drive down food-commodity costs that had soared to a record after Russia's invasion initially disrupted trade flows. Its current period is due to end March 18. Wheat futures nudged higher on Monday but remain near a one-year low.
"We're waiting for the official position of the UN & Turkey as the guarantors of the initiative," Ukraine's Kubrakov wrote.
The UN later said in a statement that it noted Russia's proposal to extend the initiative for 60 days and will do "everything possible" to preserve the integrity of the deal and ensure its continuity.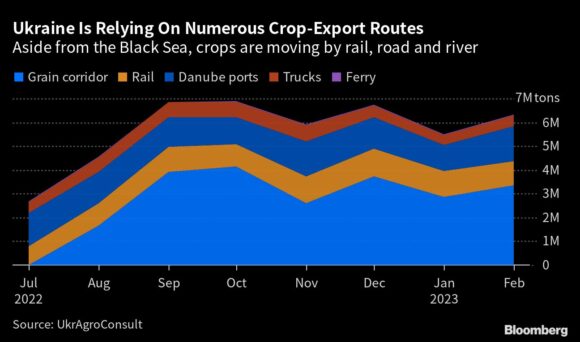 Earlier, Russia's Deputy Foreign Minister Sergey Vershinin said in a statement that Moscow wouldn't object to extending the agreement when it expires on March 18, but only for a period of 60 days.
Referring to a parallel agreement on Russia's agricultural trade, Vershinin said in a statement that Russia's further stance will be determined by progress in "normalization" of its exports, including on issues like bank payments, logistics, insurance, and the reopening of a key ammonia pipeline. Russia's crops and fertilizers have not been directly targeted by sanctions, and it continues to ship large amounts of grain.
The Black Sea Grain Initiative's terms say it will remain in effect for 120 days from signing and can be automatically extended for the same period, unless one of the parties notifies their intent to terminate or amend it. It was last renewed in November.
Ukraine is also moving grain by rail, road and river, but those routes can't handle all of its flows. While Ukraine's harvests have been battered by the war, it's still an agricultural heavyweight and ranks among the world's top shippers of staples from sunflower oil to wheat and corn.
Wheat futures in Chicago were up 0.7% after the comments from Russia and Ukraine. Prices have fallen for the past four weeks, with corn also declining.
–With assistance from Daryna Krasnolutska.
Photograph: A vessel carrying Ukrainian grain in Mamara, Turkey. Photo credit: Chris McGrath/Getty Images
Copyright 2023 Bloomberg.
The most important insurance news,in your inbox every business day.
Get the insurance industry's trusted newsletter