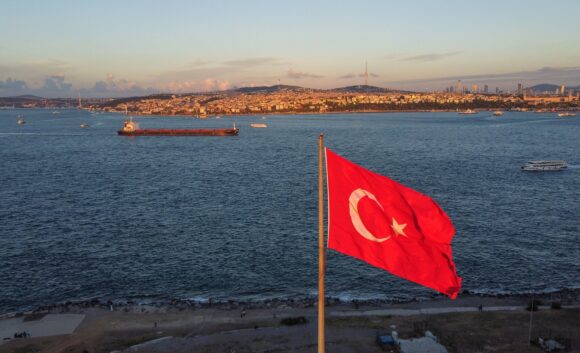 Oil shipments from Russia and Kazakhstan are getting ensnared in a Turkish government rule to provide proof that tankers are insured when navigating the vital Bosphorus and Dardanelles shipping straits.
The measure, which came into force on Friday, compels ships carrying crude oil to have a letter from their insurer guaranteeing cover while in Turkey's waters.
The requirement is a response to European Union sanctions that took effect on Monday and only afford insurance for shipments that have been purchased at or below $60 a barrel. That means it's impossible for Turkish authorities to use the conventional verification system — looking up on insurance company websites — to determine whether ships are covered.
Turkey to Demand Oil Tankers Have Proof of Insurance, Adding Teeth to Russia Sanctions
But the letters Turkey is demanding cannot and should not be published for the time being, the London P&I Club, a provider of insurance against risks including spills and collisions, said on its website on Monday. It cited an assessment from the International Group of P&I Clubs, of which it's a member. The IG, as it's known, organizes cover for 95% of the global tanker fleet.
The required letter applies to any tanker carrying crude oil out of the Black Sea, not just Russian. Kazakhstan's 1.5 million barrel-a-day CPC oil stream is also heavily reliant on the Bosphorus and nearby Dardanelles shipping straits to get its crude to international markets.
Vessels waiting to travel through the straits have been told they will be unable to do so without the letter, according to documents seen by Bloomberg. A handful of ships are waiting at either end of the Turkish Straits, ship tracking data show.
The US is aware of how Turkey's new policy could complicate ships' movement through the Turkish Straits and, along with the UK, has raised these concerns with Turkish officials, a US Treasury official said.
The official said the US is confident the cap policy doesn't prevent insurers from responding to environmental or safety-related emergencies. The US is highlighting the issuance of a General License for vessel emergencies related to the health or safety of the crew or environmental protection, the official said.
Negotiations between the International Group and Turkey are likely to take place Monday in an effort to resolve the issue, the P&I club statement said.
Not all tankers are being blocked. Local port agent reports said that a ship owned by Russia's Sovcomflot PJSC had sailed through the Straits on Saturday after its Russian insurer Ingosstrakh provided the necessary letter.
–With assistance from Firat Kozok, Christopher Condon and Joe Mayes
Copyright 2022 Bloomberg.
Interested in Energy?
Get automatic alerts for this topic.