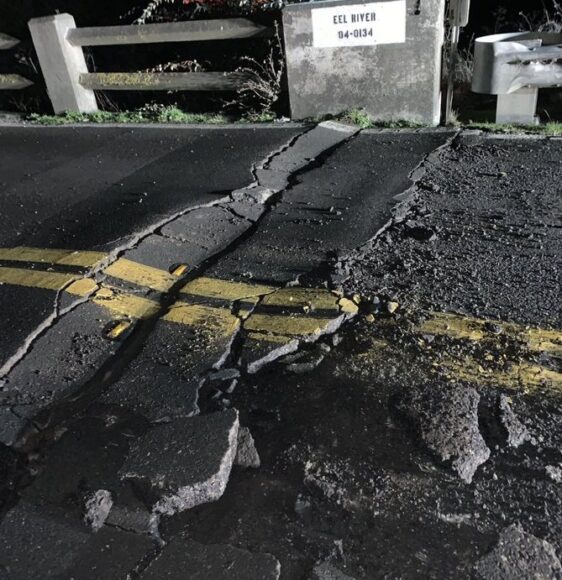 Thousands of customers are still without power following a large earthquake in Northern California.
A magnitude 6.4 earthquake struck northern California on Tuesday, according to the U.S. Geological Survey.
Very strong shaking was reported from the quake, which struck in Ferndale roughly 200 miles north of San Francisco in the vicinity of the Mendocino triple junction where the Pacific, North America and Juan de Fuca plates meet, according to the USGS.
The quake initially left more than 75,000 customers without power, two deaths were reported, and there were reports of some damage to buildings and infrastructure. Several aftershocks followed the initial quake, at least three of which registered a magnitude of 3 or greater, according to the USGS.
As of Wednesday morning, more than 28,000 customers were without power.
Gov. Gavin Newsom proclaimed a state of emergency for Humboldt County to support the emergency response to Tuesday's earthquake.
Local news stations and reporters took to social media to share photos and videos of the shaking and damages.
Got some video courtesy of Rick Littlefield of Eureka Natural Foods. This is CCTV footage of the initial quake early Tuesday morning.

As of 9:15 Tuesday night, power has been restored to 40,000 people in Humboldt County. @CBSSacramento https://t.co/34uFRkTmbp pic.twitter.com/SMDz9xF6DI

— Andrew G. Haubner (@A_G_Haubner) December 21, 2022
Humboldt County Sheriff William F. Honsal told CNN that the two people who died were a 72-year-old and an 83-year-old who had medical emergencies sometime during the earthquake and emergency services couldn't reach them in a timely manner.
CNN also reported that in Rio Dell, one of the cities impacted by the quake, water and power remain out, and the county is under a boil notice.
Topics
California
Was this article valuable?
Here are more articles you may enjoy.
The most important insurance news,in your inbox every business day.
Get the insurance industry's trusted newsletter