With maximum sustained winds of 155mph as of noon EDT on Sept. 28, Hurricane Ian is just shy of Category 5 status and is expected to make landfall on the Gulf coast of Florida between Sarasota and Naples.
The National Hurricane Center said some fluctuations in intensity of the large, slow-moving storm were possible before the center hit land but "Ian is expected to reach the coast as an extremely dangerous Category 4 hurricane" before the storm weakens as it moves across the Florida peninsula throughout the day.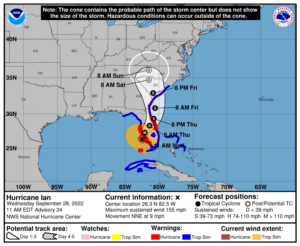 The NHC warns of storm surge well in excess of 10 feet in many areas – up to 18 feet in some locations, and "catastrophic wind damage" is expected where the core of Ian makes landfall. Plus, significant rainfall is expected through Thursday.
"Catastrophic is an appropriate word to describe how bad the storm surge inundation is going to be in southwest Florida," tweeted Phil Klotzbach, meteorologist at Colorado State University and author of the CSU hurricane forecast report.
Ian, in line to be one of the strongest to ever make U.S. landfall, will be the first hurricane to strike Florida since 2018. It's collision with the Sunshine State will be the storm's second landfall, having already struck Cuba. Forecasters are beginning to consider the possibility of a third landfall on the East Coast after the storm leaves Florida and gets to the Atlantic Ocean. The NHC said Ian is now likely to remain more intact than previously forecasted as it moves across the state, which "increases the threat of hurricane-force winds on the east coast of Florida."
Variables such as the storm's track, strength, speed, landfall location, and cause of loss will ultimately determine losses to the insurance industry from Ian, and while much had been made when the storm's direct path strayed from the heavily-populated Tampa-St. Petersburg area to the north, many of the locations within Ian's current path are well-populated and have been growing. For instance, according to recent data from the U.S. Census Bureau, Fort Myers was the sixth fastest-growing large city in the United States between July 2020 and July 2021.
Ian appears poised to land on the list of costliest hurricanes in history. The intense storm could be the second hurricane to make the list of Top 10 costliest hurricanes in two years.
Alex Sosnowski, Accuweather senior meteorologist, said Ian is in line to affect much of the same area as Hurricane Charley in 2004. However, Ian is a much larger storm. Accuweather said Charley could almost fit inside the eye of Hurricane Ian.
Charley caused nearly $7.5 billion in insured losses when it occurred ($9.7 billion in 2018 dollars), and was on the Top 10 list of costliest hurricanes until a couple of years ago.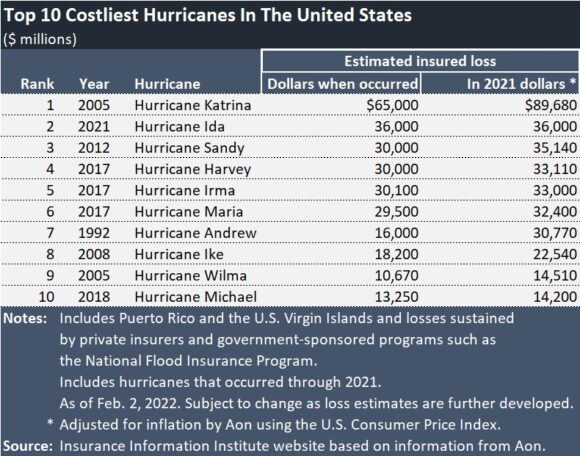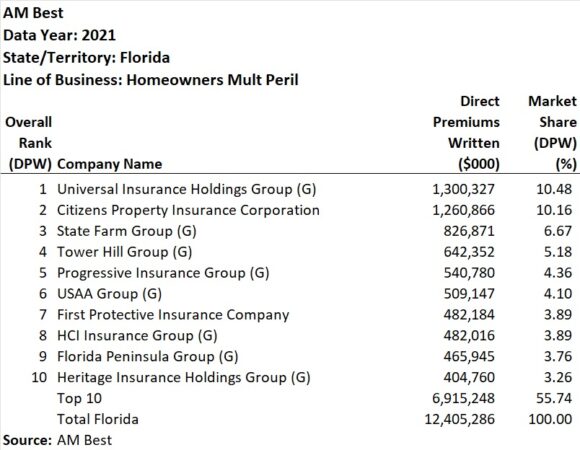 Photo: Hurricane Ian as seen from space. (Image credit: NOAA)
Interested in Catastrophe?
Get automatic alerts for this topic.