New

You can now listen to Insurance Journal articles!
South Carolina's Republican-controlled Senate passed a bill Thursday that would bar citizens of "foreign adversary" nations from buying property in the state, an anti-espionage measure that critics fear will chill overseas investments over outsize concerns.
The bill is one of numerous like-minded measures that have arisen across the country after a suspected Chinese spy balloon recently floated over U.S. territory and was brought down off the South Carolina coast. The overflight fueled lawmakers' worries that nefarious actors may advance surveillance efforts under the guise of land ownership. At least 11 state legislatures are considering similar proposals.
The leading sponsor of the South Carolina bill, Senate Majority Leader Shane Massey, said he was spurred to action by a Chinese biomedical company's pending $28 million purchase of 500 acres near the U.S. Army's Cyber Command headquarters in the state. He drew a parallel between some foreign land purchases and the Trojan Horse of Greek mythology.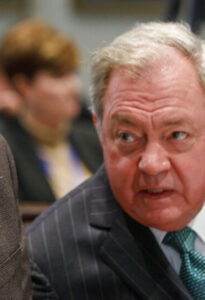 "We need to look inside that wooden horse before we let it in the gate. And there are some countries that have given us more of a reason to look inside the wooden horse before we let it in the gate," Massey said. "These five have specifically given us reason to have more scrutiny and to be a little bit more concerned."
Massey said the law would no longer apply to countries if they are removed from the federal list and could apply to any that are added to it.
Democratic Sen. Dick Harpootlian, who opposed the bill, questioned the premise that a Chinese company's purchase of land equated to "establishing a nest of spies." While acknowledging his distaste for the government in Beijing, he said the matter would better be left to federal officials.
"This is a bumper sticker," Harpootlian said. "This is not legislation that is going to improve the quality of life for anybody in this state."
Democratic Sen. Mike Fanning expressed concern that it could hamstring rural counties with fewer options for outside investment.
Massey acknowledged that some areas are desperate for economic development but said the listed countries have "earned additional scrutiny."
The measure lets businesses operating in the state before 2023 acquire land for expansion with approval from the Secretary of Commerce and governor. Massey noted that it would not force current landowners to divest any property and only applies to future acquisitions.
It would also cover companies with partial "adversary" nation ownership. Citizens from such countries could not collectively hold more than a 20% stake in a landowning company, and no single individual could own over 10%.
Immigrants from those countries who hold permanent residency could acquire no more than 5 acres of land, and only for residential use.
During debate, Senate Minority Leader Brad Hutto asked if someone with a green card, for example, could open a restaurant. Massey replied that such a person could do so but not own the building where it is housed.
"Why is that?" Hutto asked. "I thought the American Dream was kind of to own your own business?"
"Once they become a citizen, they could do that," Massey said, adding: "They are still citizens of foreign adversaries."
The Senate approved the measure by a vote of 31 to 5. It is now in the House Ways and Means Committee.
Copyright 2023 Associated Press. All rights reserved. This material may not be published, broadcast, rewritten or redistributed.
Topics
South Carolina
Interested in Politics?
Get automatic alerts for this topic.