ATLANTA, Georgia, September 12, 2022 — Breckenridge Insurance welcomes Sam Frihart as a commercial property underwriter to its specialty property program team. Frihart has four years of underwriting experience on the carrier side of the business and is skilled at property risks having worked with agents and brokers nationally, including Breckenridge.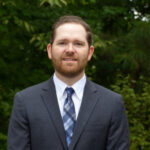 Previously, Frihart was property facility underwriting director at Arch Reinsurance and an underwriter in the wholesale property division of Berkshire Hathaway Homestate Companies for more than two years prior to this. He graduated with a degree in risk management and insurance with a certificate of legal studies from the University of Georgia while also demonstrating his leadership skills among his work and student activities.
"Sam is a great addition to our team at the ideal time. We are experiencing overall program growth while also expanding our scope of property coverages to best serve our clients. With his carrier underwriting perspective, our commitment to underwriting integrity is clearly in good hands," stated Michael Marks, senior vice president of the specialty property team.
As part of the growing specialty property program team, Frihart is focused on facilitating competitive coverage solutions for diverse property risks including vacant, residential real estate investor portfolios, and commercial properties nationally by way of access to top-rated carrier partners. The scope of coverage also includes general liability, wind deductible buy backs, TRIA and new buffer excess capacity.
Frihart is located in the Atlanta area and can be reached at [email protected] or 678.269.4808.
About Breckenridge Insurance:
BRECKENRIDGE INSURANCE is a wholesale brokerage, binding and programs insurance provider
delivering competitive commercial coverage solutions to independent agents and brokers nationally. With problem-solving specialists spanning a variety of industries and insurance lines, the team provides expertise and access to top-rated markets to help clients win business with underwriting integrity. As part of Breckenridge Group, access to additional specialty programs and a commitment to significant compliance and technology investments support the company's growth. For more information, please visit WWW.BRECKIS.COM or call 855.728.8822. CA Insurance License #0G13592
About Breckenridge Group:
Headquartered in Atlanta, Breckenridge Group is the parent company of several best-in-class brands that provide insurance and risk management solutions and services to diverse audiences across three practice areas: insurance, financial and member services. For more than a decade, the company has built a reputation for strategic growth by empowering expert talent who achieve inspiring results. More than 400 employees work across its six divisions including Breckenridge Insurance, Breckenridge General Agency, OSC Insurance Services, Southeastern Underwriters, Target Markets Program Administrators Association and Insurance Networks Alliance. For more information, please visit WWW.BRECKGRP.COM
Topics
Commercial Lines
Excess Surplus
Business Insurance
Underwriting
Property
Interested in Business Insurance?
Get automatic alerts for this topic.