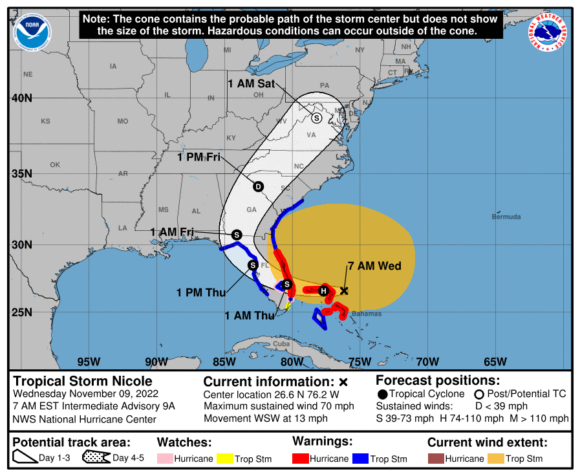 New

You can now listen to Insurance Journal articles!
With just over three weeks to go until the official end of the 2022 North Atlantic Hurricane season, Subtropical Storm Nicole – the fourteenth named storm of the year, could be a rarely seen event – a hurricane in November making landfall on Florida's east coast.
Attaining subtropical storm status on Monday, November 7, Nicole attained Tropical Storm status at 15:00 UTC on Tuesday, November 8. Nicole is a large storm with tropical storm-force winds currently extending up to 460 miles (740 kilometers) from the center of the system. Nicole is currently tracking west-southwest toward the northwest Bahamas.
The National Hurricane Center (NHC) forecast then currently shows Nicole crossing the northwest Bahamas on Wednesday, November 9 at Category 1 hurricane intensity (Saffir-Simpson Hurricane Wind Scale. Nicole will then track west towards Florida, with hurricane conditions possible across portions of Florida's southeast coast and east-central areas later on Wednesday.
Looking ahead to Thursday, November 10, Nicole is forecast to make landfall as a tropical storm on the east coast of Florida by around 06:00 UTC (01:00 local time). Following landfall, Nicole is expected to rapidly weaken as the system turns north across Florida and then accelerates northeast over the Southeast and towards the Northeast.
Nicole is a large storm and is expected to bring heavy rainfall, life-threatening storm surges, and large swells to the northwest Bahamas, Florida, and southeast U.S. Hurricane and/or storm surge warnings are in place from North Palm Beach in Florida to Georgetown, South Carolina.
It is expected to bring up to 8 inches (200 millimeters) of rainfall across east, central, and north Florida. Based on the National Weather Center's Weather Prediction Center (WPC) data, some areas on the coast northeast of Orlando could receive up to 6 inches (150 millimeters) of rainfall. Rainfall from Nicole is also expected to extend across southeast Georgia and into parts of South Carolina, with up to 4 inches (100 millimeters) in places. The system could also generate heavy rainfall over the Mid-Atlantic and Northeast later this week and into the weekend.
Eighty-Seven Year Gap
If the current NHC forecast verifies, Nicole would be only the second hurricane to make landfall along the east coast of Florida in the month of November since recordkeeping began. The Yankee Hurricane made landfall as a Category 2 hurricane with 100 miles per hour (155 km/h) winds near Miami Beach, Florida on November 4, 1935.
With Nicole forecast to make landfall in Florida on November 10, being so late in the season it would rank as a rare event for the U.S. overall. Only one tropical cyclone has made landfall in the U.S. as a hurricane later than November 8 on record: Hurricane Kate made landfall as a Category 2 hurricane near Mexico Beach, Florida on November 21, 1985.
Apart from the Yankee Hurricane and Hurricane Kate, the only other known hurricane to make landfall in the contiguous U.S. during November is the Expedition Hurricane of 1861, which is thought to have passed over Cape Hatteras, North Carolina on November 2, 1861, as a Category 1 hurricane.
Although Nicole is not comparable with the size and intensity of Hurricane Ian which made landfall on September 30 as a high-end Category 4 hurricane with winds of 155 miles per hour (250 km/h) at Cayo Costa, close to Fort Myers and Cape Coral, Nicole is a broad storm that will brings some impacts to a large geographic area.
With many communities in southwest and central Florida still recovering from Hurricane Ian, the current NHC track for Nicole is slightly north of the areas worst impacted by Ian, though tropical storm watches are in place for Tampa through to Fort Myers. Some areas in central and eastern Florida that were impacted by Ian are also expected to be impacted by Nicole.
The RMS Event Response team will be providing regular updates as the storm progresses, and even if Nicole does not attain hurricane intensity, and instead makes landfall as a strong tropical storm, it would still be the strongest tropical cyclone to make landfall along the east coast of Florida this late in the calendar year.
RMS clients can access detailed information on Subtropical Storm Nicole through RMS Owl, including the latest RMS HWind data and snapshots, and Follow RMS social media channels on Twitter and LinkedIn for updates.
Interested in Catastrophe?
Get automatic alerts for this topic.