New

You can now listen to Insurance Journal articles!
Key financial results for private U.S. property/casualty insurers significantly worsened in 2022 from a year earlier, according to preliminary results from global analytics provider Verisk and the American Property Casualty Insurance Association (APCIA).
The industry recorded a net underwriting loss for 2022 of $26.9 billion, more than six times the $3.8 billion underwriting loss in 2021. The underwriting loss in 2022 was the largest the industry has seen since 2011.
"The insurance industry is being hammered by increasing input costs, natural catastrophes, legal system abuse, and resistance in some states to adequate rates," said Robert Gordon, senior vice president, policy, research & international for APCIA. "Insurers suffered a 14.1% increase in incurred losses and loss adjustment expenses, contributing to a more than $76 billion contraction in insurers' surplus at a time when loss exposures are rapidly growing. In 2023, insurers are faced with a significant challenge to close the rate gap in order to meet their growing cost of capital."
Policyholders' surplus recovered somewhat to $952.4 billion from Q3 2022's $911.7 billion total, but still remains below that of year-end 2021 driven primarily by the large amount of unrealized capital losses accrued during 2022. Insurers' rate of return on average policyholders' surplus, a measure of overall profitability, declined to 4.2% in 2022 from 6.4% in 2021.
Earlier this month, AM Best reported similar findings. The U.S. P/C industry recorded a $26.5 billion net underwriting loss in 2022, according to the rating agency.
Verisk and APCIA said U.S. P/C net income fell 33.6% to $41.2 billion in 2022, compared with 2021. The combined ratio deteriorated to 102.7% in 2022, from 99.6% in 2021.
The preliminary results outlined in the table below are consolidated estimates based on annual statements filed by insurers with insurance regulators. The results are based on about 94% of all business written by U.S. property/casualty insurers, Verisk and APCIA said.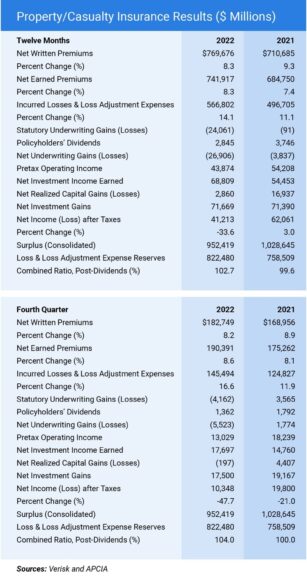 "Hurricane Ian and the effects of inflation resulted in major losses for property insurers last year, while accident severity continued to plague personal and commercial auto lines," said Neil Spector, president of underwriting solutions at Verisk. "To remain profitable in these challenging times, many insurers are looking for new ways to reduce expenses, increase efficiencies, and enhance the customer experience. And they're finding help from an ecosystem of advanced technology and analytics that is growing every day."
Topics
Carriers
USA
Profit Loss
Underwriting
Property Casualty
Interested in Carriers?
Get automatic alerts for this topic.