New

You can now listen to Insurance Journal articles!
U.S. and international companies have issued more recalls, for food, medicine, cleaning products and automobiles – and more recalls could be on the way.
The Associated Press reported that Hyundai is telling the owners of more than 44,000 SUVs in the U.S. to park the vehicles outdoors because they can catch fire even if the engines are off.
The automaker says certain 2018 Santa Fe Sport models should be parked away from other vehicles and structures until they are repaired as part of a recall.
The SUVs have anti-lock brake computers that can malfunction and develop an electrical short. That can cause too much electricity in the computer, increasing the risk of a fire. They weren't included in a February recall of more than 350,000 vehicles for the same problem.
Dealers will replace a fuse with one that limits the current going to the anti-lock brake module. Owners will be notified by mail starting Dec. 26.
Hyundai says in documents posted Tuesday by the National Highway Traffic Safety Administration that it has four reports of engine compartment fires from vehicles included in both recalls. No injuries were reported.
Copyright 2022 Associated Press. All rights reserved. This material may not be published, broadcast, rewritten or redistributed.
Blood Pressure Meds
Aurobindo Pharma has recalled batches of Quinapril and hydrochlorothiazide due to impurities, the Miami Herald reported. The lot numbers are QE2021005-A and QE2021010-A for Quinapril, and 20 mg and 12.5 mg, 90-count bottles of hyrdochlorothiazide, with expiration dates of January 2023, the company said.
The nitrosamine impurities may increase the risk of cancer. Users are encouraged to contact their doctors or to call Qualanex, which is handling the recall for Aurobindo, at 888-504-2014.
Chicken
Foster Farms, based in Louisiana, is recalling some 148,000 pounds of cooked, frozen chicken breast patties that may contain bits of plastic, the U.S. Department of Agriculture said.
The recall is for 80-ounce bags with 20 pieces of breaded chicken breast patties, with a "best-by" date of Aug. 11, 2023 and an establishment number of P-33901. The items were shipped to Costco distribution sites in Arizona, California, Colorado, Utah and Washington state, and may have ended up at Costco retail stores, the USDA said in a statement.
Consumers can contact the Foster Farms consumer hotline at 1-800-338-8051 or email [email protected].
Pine-Sol
The Associated Press reported that The Clorox Company has recalled its scented multi-surface cleaners and all-purpose cleaners. The recall doesn't include its iconic original pine-scented Pine-Sol, which is its only product registered as a disinfectant.
The products recalled by the Oakland, California-based company also include scented CloroxPro Pine-Sol All Purpose Cleaners and Clorox Professional Pine-Sol Lemon Fresh Cleaners, the U.S. Consumer Product Safety Commission said in a statement.
The products "may contain bacteria, including Pseudomonas aeruginosa, an environmental organism found widely in soil and water," the commission said. "The bacteria can enter the body if inhaled, through the eyes, or through a break in the skin. People with healthy immune systems are usually not affected by the bacteria," the commission said.
Copyright 2022 Associated Press. All rights reserved. This material may not be published, broadcast, rewritten or redistributed.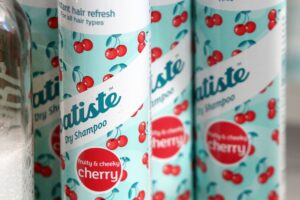 More Dry Shampoo Questions
A week after Unilever announced that it was recalling a number of dry shampoo products that may contain the carcinogen benzene, a testing lab has found the chemical in other brands.
Bloomberg News reported that a New Haven lab tested 34 brands of the spray and found that almost three-quarters of them contained benzene.
The highest concentrations were found in Not Your Mother's and Church & Dwight Co.'s Batiste products, the lab reported.
Top photo: Hyundai sign at Colorado dealer. (AP Photo/David Zalubowski)
The most important insurance news,in your inbox every business day.
Get the insurance industry's trusted newsletter