Insurers are being forced to rethink their approach to climate change as they assess the risk of being sued for antitrust violations.
Munich Re, the world's biggest reinsurer, recently backed out of the Net Zero Insurance Alliance citing what it called the "material" legal risks it would face if it remained. The defection was followed by two more high-profile departures, with Zurich Insurance Group AG and Hannover Re also leaving. All three said they'll still pursue net zero goals, just not in coordination with an alliance.
There are now concerns that more exits may follow. A spokesman for SCOR SE said the firm's NZIA membership is currently "being reviewed by the group's executive committee and board." Spokespeople for Allianz SE and Swiss Re AG both said the companies are "monitoring" developments.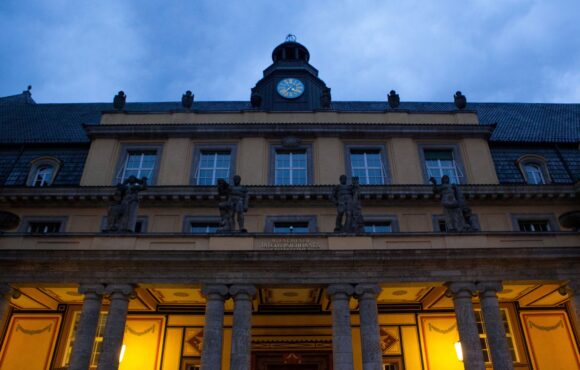 Though Munich Re was unique in its explicit reference to legal risks, NZIA's sudden loss of three key members has left the insurance industry looking like a casualty of the anti-ESG movement in the US. Insurers' extra sensitivity about antitrust issues may be tied to the sector's "occupational habit" of trying to anticipate risks, said Maurits Dolmans, a partner at Cleary Gottlieb Steen & Hamilton LLP who advises Race to Zero, a group that's affiliated with NZIA and other climate alliances.
Alec Burnside, a partner at Dechert LLP in Brussels who specializes in competition law, says the firms most susceptible to the threat of litigation are those with large US operations.
"Competition authorities in the EU and UK have generally encouraged collaboration on sustainability, while the US authorities are behind the game," he said. "Companies with substantial US operations will likely be most sensitive to the issue because of the backlash against ESG."
Antitrust rules have become akey weapon in the US Republican Party's campaign to vilify environmental, social and governance strategies. GOP senators announced plans last year to fight "ESG collusion," while House Republicans ended 2022 by launching an investigation into whether climate alliances "are violating antitrust laws." The goal is to single out those "advancing the ESG agenda," they said.
"Companies that are exiting climate alliances have a practical interest in not getting into an ESG-wokeism slanging match with antitrust as one of the weapons that's used against them," Burnside said. "One way to keep your head down amid all the backlash against ESG is to say 'we remain wedded to sustainability goals, but we are pursuing them unilaterally.'"
Munich Re, which declined to comment for this story, generates more business in the US than in Germany, its home market.
NZIA, which has no US members and at its peak represented roughly 15% of global premiums, said in an April 12 statement that "it and its members will comply with applicable laws, rules and regulations, including antitrust."
The group points out that it's taken "concrete actions to advance the net zero insurance agenda globally and to provide its members with a framework they can use to make independent decisions to establish their own individual net zero pathways."
A number of NZIA members have told Bloomberg News they remain committed to the group, including three of the world's largest insurers Assicurazioni Generali SpA, Aviva Plc and Axa SA. Meanwhile, Canadian insurer Beneva Inc. joined the coalition in April. Munich Re and Zurich Insurance Group remain members of the Net Zero Asset Owners Alliance, which is a separate sub-unit of the Glasgow Financial Alliance for Net Zero.
The insurance alliance declined to comment further for this story, as did Hannover Re and Zurich Insurance Group.
A spokesperson for GFANZ, the umbrella group for the eight climate finance coalitions of which NZIA is one, said it "takes competition concerns seriously and has implemented a robust antitrust compliance program to mitigate potential issues." GFANZ is co-chaired by Mark Carney, a former governor of the Bank of England, and Michael Bloomberg, the founder of Bloomberg News parent Bloomberg LP.
Dolmans said climate change can best be addressed by "innovation and coordination." For that reason, "some cooperation should be allowed," he said.
When NZIA was created in 2021, founding member Munich Re was quick to warn of antitrust risks, people familiar with the talks at the time said. The concerns it raised were echoed by other signatories including Swiss Re, Axa and Allianz, which then insisted that NZIA hire lawyers to advise on the legal ramifications of joining, according to the people, who asked not to be identified referring to private discussions.
NZIA duly appointed an external law firm to advise it and an antitrust working group was set up to monitor competition risks on an ongoing basis. NZIA has deliberately limited the scope of its collaboration to avoid potential violations of antitrust rules, according to people familiar with the matter.
The recent spate of NZIA departures occurred before an end of July deadline by which time members must set science-based intermediate targets to show how they'll decarbonize their underwriting portfolios in a credible way.
"Some of the alliances are better than others," said Amanda Starbuck, investor program director at environmental nonprofit The Sunrise Project. "The NZIA lacks ambition and will not align insurance underwriting with a 1.5C pathway."
Any further splintering of NZIA has real implications for decarbonization in underwriting portfolios, said Miqdaad Versi, founder of the sustainability practice at Oxbow Partners, a management consultancy focused on insurance.
"The ideal scenario" is NZIA holds on to members, meets its near-term emissions targets and attracts new signatories, Versi said. "The worst-case scenario is that, after three of the alliance's leading members have left, others follow." And that "risks undoing the work done to standardize the insurance industry's approach for aligning to net zero," he said.
Photograph: Piles of coal beyond a tree against a blue sky. Photo credit: Bloomberg Creative Photos/Bloomberg Creative Collection
Related:
Copyright 2023 Bloomberg.
Topics
Carriers
Climate Change