McCain to Retire from Frankenmuth Insurance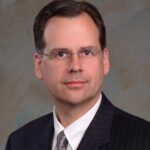 Frankenmuth Insurance Senior Vice President Phil McCain will retire on June 2 after 37 years of service and leadership.
McCain started at the company, headquartered in Frankenmuth, Michigan, as a programmer in 1986. He was promoted to manager of e-business systems in 2000, to vice president of information technology in 2008 and senior vice president in 2019. He serves as Frankenmuth Insurance's ethics officer, is a member of the corporate executive committee and is responsible for disaster recovery and corporate planning. During McCain's tenure, Frankenmuth Insurance integrated Patriot Insurance Company ─ a subsidiary of Frankenmuth Insurance ─ into its business processes.
Upon McCain's retirement, Curtis Williams, director of technical services, will be promoted and appointed by the board of directors of Frankenmuth Insurance to serve as vice president of information technology.
Was this article valuable?
Here are more articles you may enjoy.
The most important insurance news,in your inbox every business day.
Get the insurance industry's trusted newsletter