New

You can now listen to Insurance Journal articles!
Louisiana Insurance Commissioner Jim Donelon announced Tuesday that he will not run for reelection this fall, marking an end to 17 years as the state's chief insurance regulator.
"I've made that decision for two reasons: The first is to remove politics from the vitally important upcoming legislative session where many significant issues are affecting our state and the future of our state's property insurance market will be debated and hopefully decided to improve that market," Donelon said. "The second reason is that I am obviously 78 years old and have spent almost 50 years serving the public of Louisiana. While very healthy and continuing to exercise, I want to enjoy the remaining years of my life with my family and hopefully some new hobbies."
Q&A: Louisiana Commissioner Jim Donelon on Special Session to Address Insurance Crisis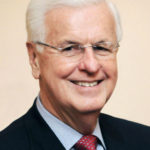 Donelon made the announcement at a press conference updating the Insure Louisiana Insurance Program. Lawmakers last month approved a $45 million funding bill designed to provide grants to insurance companies that commit to writing policies in the state. Donelon said Tuesday that nine insurers have submitted applications.
Donelon, a Republican, first won election for insurance commissioner in a special election in September 2006. The following year, Donelon won a full term, then won reelection in 2011, 2015 and 2019.
Donelon appeared to have given thought toward running for reelection. He said he held a fundraiser in December.
"Since then I haven't been able to lift a finger towards my reelection campaign because of the time this crisis has demanded of me and my staff," Donelon said. "I can't say that it had no factor, but frankly I'm also the longest serving insurance commissioner in the state's history."
Topics
Louisiana
Was this article valuable?
Here are more articles you may enjoy.
The most important insurance news,in your inbox every business day.
Get the insurance industry's trusted newsletter