New

You can now listen to Insurance Journal articles!
Liberty Mutual Global Risk Solutions Names Geary President, Insurance Solutions
Liberty Mutual Insurance Global Risk Solutions (GRS) has appointed Elizabeth Geary as president, Insurance Solutions. Geary will report to GRS President of Underwriting Matthew Moore, effective late August.
Geary is an established strategic and operational leader with vast experience in portfolio optimization, cycle and volatility management, data and analytics, and managing underwriting teams in complex lines. She will be responsible for building teams specializing in addressing customers' emerging risks, including cyber and energy transition, in a rapidly changing environment.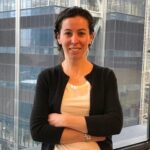 Geary will work closely with global brokers and GRS underwriting leaders to understand and stay ahead of global risk trends, while looking for opportunities to build and scale new capabilities to deliver solutions to customers in a timely, consistent manner.
Geary's new role, which follows the recent appointment of Moore by GRS President Neeti Bhalla Johnson, sits within GRS' new Office of Underwriting.
Geary joins Liberty Mutual from TransRe, where she served in a dual role as president, Global Portfolio Management, and chief underwriting officer, North America, balancing both transactional and portfolio experience. Prior to this, she was the company's global head of Cyber.
She is a graduate of Fordham University, earning a bachelor's degree in business administration and a master's degree in finance from the Gabelli School of Business.
***
Norton Promoted to K&K President and CEO as Bixler Retires
K&K Insurance announced that Ron Norton has been promoted to president and CEO of K&K Insurance Group Inc., effective July 1, 2022. He succeeds Todd Bixler who has retired.
Norton has a 36-year insurance career at K&K where he started in 1986 as an associate underwriter in the E&A Division. In the following years, he was responsible for growing and managing several K&K programs including leisure camps, campgrounds, girl scouts, and resorts. In 2007, Norton moved into senior management as vice president of the Leisure Division. Under his leadership, the division grew so well that it was divided into the Leisure and the E&A Divisions that K&K operates today. Norton became chief underwriting officer in 2019 and has been instrumental in K&K's transition to partner with three financially stable insurance carriers, which positions K&K well for future business development.
Todd Bixler began his career with K&K as controller of the accounting department. He advanced steadily through roles including chief administration officer, chief operations officer, chief financial officer, and for the past 12 years, president and CEO of K&K. During Todd's tenure as CEO, K&K's gross written premium more than doubled. Bixler's contributions to K&K have been significant; his extensive knowledge of the Sports, Leisure, and Entertainment insurance industries have guided K&K through challenges and on to continued success.
K&K congratulated Bixler on an outstanding career and wished him all the best in retirement.
With 70 years in business, Fort Wayne, Ind.-based K&K Insurance specializes in sports, leisure, recreation, event, entertainment and motorsports insurance.
The most important insurance news,in your inbox every business day.
Get the insurance industry's trusted newsletter