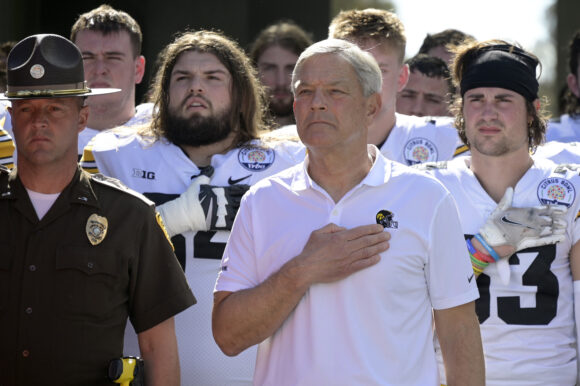 OWA CITY, Iowa (AP) – A race discrimination lawsuit filed against the University of Iowa by former football players will be settled using funds entirely from the school instead of having taxpayer money cover half of the $4.2 million deal, the university's president said Thursday.
President Barbara Wilson put an end to the original plan that called for $2 million being pulled from the state's general fund after listening to the public's concerns and consulting with the Board of Regents, she said in a statement.
The university's athletics department will reimburse the state for the $2 million, The Des Moines Register reported.
The state's Appeal Board approved the plan to use taxpayer funds for the settlement in a 2-1 vote on Monday. Board member and State Auditor Rob Sand voted down the proposal, saying the university's athletics department has the funds to cover the full settlement.
Iowa lawmakers then introduced a bill on Wednesday that would require athletics departments at the state's regents universities to repay the state for any settlement costs that had not been budgeted for by lawmakers.
The lawsuit was filed in November 2020 by 12 Black former players, including star running back Akrum Wadley and career receptions leader Kevonte Martin- Manley. They alleged they were demeaned with racial slurs, forced to abandon Black hairstyles, fashion and culture to fit the "Iowa Way" promoted by coach Kirk Ferentz, and retaliated against for speaking out.
The players initially sought $20 million in damages plus the firings of athletic director Gary Barta, Ferentz and his son and offensive coordinator Brian Ferentz.
Sand agreed that Barta should be fired, noting four discrimination cases totaling nearly $7 million in damages under Barta's watch.
"I can't imagine a private company that would still have someone at the helm after four discrimination lawsuits under that person's leadership," he said at his news conference Monday.
Wilson has declined to discuss whether Barta will be fired.
Kirk Ferentz has said he was "greatly disappointed" with the settlement and how it was resolved. He said "the parties originally named disagree with the decision to settle, fully believing that the case would have been dismissed with prejudice before trial."
He added that the coaches were dropped from the lawsuit and "there is no admission of any wrongdoing."
Damario Solomon-Simmons, a Tulsa-based civil rights attorney who represented the ex-players, blasted Ferentz for his comments, saying Black Hawkeyes players will continue to be at risk of harassment "as long as Kirk Ferentz is in charge."
Photo: FILE – Iowa head coach Kirk Ferentz, front right, stands for the national anthem before the Citrus Bowl NCAA college football game against Kentucky, Saturday, Jan. 1, 2022, in Orlando, Fla. Iowa hired Lorenda Holston as assistant athletic director for diversity, equity and inclusion and Anthony Embry for the newly created position of athletics academic and diversity coordinator, the university announced Friday, July 22, 2022. The announcement comes as the university and head football coach Kirk Ferentz and others face a lawsuit by former football players who allege they faced discrimination and harassment from coaches and staff because they are Black.(AP Photo/Phelan M. Ebenhack, File)
Topics
Iowa
The most important insurance news,in your inbox every business day.
Get the insurance industry's trusted newsletter