New

You can now listen to Insurance Journal articles!
Berkshire Hathaway's $11.6 billion acquisition of Alleghany Corp. was the largest insurance transaction in 2022 but insurance M&A activity dropped this year, according to an S&P Global Market Intelligence analysis.
As of the end of November, there were 685 deals involving insurance brokers and 105 among insurance underwriters, said S&P Global Market Intelligence. In 2021 those totals were 1,150 and 184, respectively.
Buffett's Berkshire Hathaway to Buy Alleghany for $11.6 Billion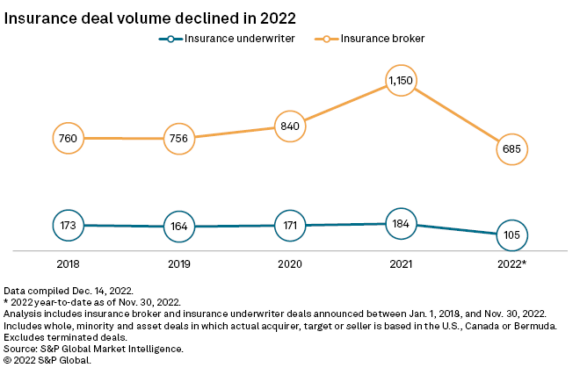 S&P said the number of deals in the property and casualty, multiline sector as well as the aggregate transaction value fell sharply in 2022. A total number of 61 deals were announced in 2022 with an aggregate transaction value of $1.2 billion. In 2021, 81 deals were announced with an aggregate transaction value totaling $12.8 billion.
Eleven of the 15 largest insurance deals of 2022 were announced during the first half of the year and eight of the deals targeted insurance brokers.
The second largest insurance deal of 2022 was Brown & Brown Inc.'s acquisition of Global Risk Partners Ltd. The $1.8 billion deal was finalized in July and since being acquired, Global Risk Partners has made acquisitions of its own, purchasing U.K.-based commercial insurance broker CC Flint and Co. The terms of the acquisition were not disclosed.
U.S. Broker Brown & Brown Agrees to Acquire UK's Global Risk Partners Ltd.
One of the largest insurance transactions announced during the second quarter of 2022 was White Mountains Insurance Group Ltd.'s deal to sell NSM Insurance Group LLC to The Carlyle Group Inc. in a transaction valued at about $1.8 billion. The deal, first disclosed in May, closed in August.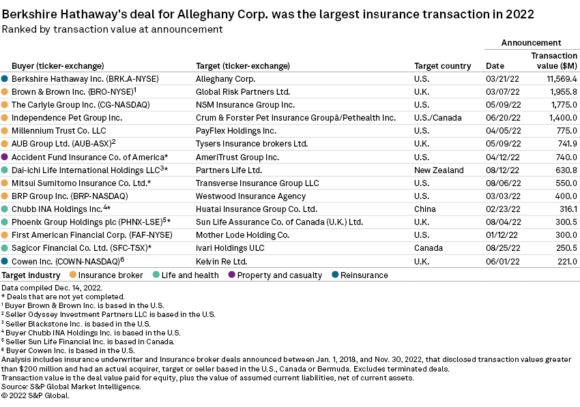 Topics
Mergers & Acquisitions
Was this article valuable?
Here are more articles you may enjoy.
Interested in Mergers?
Get automatic alerts for this topic.