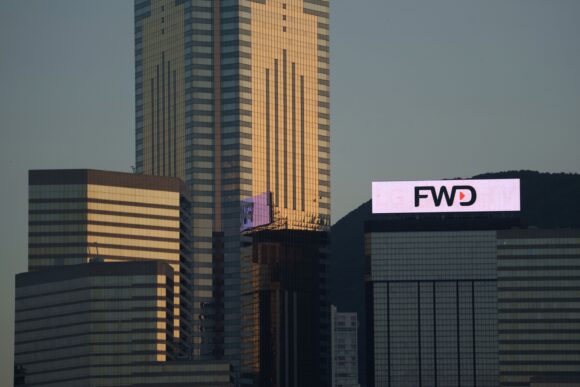 FWD Group Holdings Ltd., the pan-Asian insurance company owned by Hong Kong billionaire Richard Li, is planning to file for a third time for an initial public offering in the financial hub, according to people familiar with the matter.
The company will resubmit its listing documents with updated financial data as soon as Monday as its September application has just lapsed, the people said. The insurer is still seeking to raise about $1 billion in a share sale, they said, asking not to be identified as the information is private. The IPO, whose proceeds will be used to fuel the firm's growth, could come as soon as in the second quarter depending on market conditions, they said.
FWD was initially looking to go public in the US, where it had filed for an IPO that could have raised as much as $3 billion in 2021. The company in December 2021 decided to switch its listing venue to Hong Kong and applied for a share sale in the Asian financial hub two months later. The insurer refiled in September after the first application lapsed.
Deliberations are ongoing and details such as the size and timing could change, the people said. A representative for FWD declined to comment.
Listings in the Asian financial hub are set to rebound after a record-breaking drought — driven by strict Covid curbs in China and a corporate crackdown — that led many IPO candidates to delay plans. February marked Hong Kong's first full month without any first-time share sales since September 2012, according to data compiled by Bloomberg.
FWD has raised a total of $1.8 billion in private placements over the past two years as it moves toward the IPO. Full year adjusted operating profit before tax rose 83% to $334 million, it said in an exchange filing on Feb. 28.
Founded 10 years ago, FWD has expanded across Asia both organically and via acquisitions. It counts more than 10 million customers across markets in the region. The firm agreed in February to buy a majority stake in Gibraltar BSN Life Bhd. to tap into Malaysia's growth potential. It acquired the life insurance operations of Thailand's Siam Commercial Bank Pcl for about $3 billion in 2019.
Photograph: A digital billboard advertising FWD Group Holdings Ltd. atop a building in Hong Kong, China, on Saturday, Oct. 15, 2022. Hong Kong wants to become an international center for virtual assets as the city seeks to bolster its status as a global financial hub following the disruptions caused by the pandemic. Photo credit: Lam Yik/Bloomberg
Related:
Copyright 2023 Bloomberg.
The most important insurance news,in your inbox every business day.
Get the insurance industry's trusted newsletter