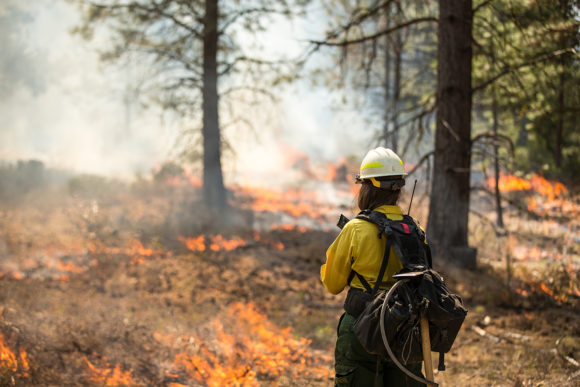 New

You can now listen to Insurance Journal articles!
Several groups of associations, cities and counties are attempting to challenge a case in Montana they say has the potential to take away an important tool from firefighting efforts at a time when Western U.S. wildfires are worsening.
The groups, led by the National Wildfire Suppression Association, filed a motion in U.S. District Court District of Montana Missoula this week to intervene as defendants in a case that seeks to enjoin the U.S. Forest Service from using aerial fire retardant. They were part of several groups that include the wildfire-prone counties, as well as towns like Paradise, California, which was destroyed by massive the 2018 Camp Fire.
The Forest Service Employees for Environmental Ethics filed a suit against the U.S. Forest Service in October 2022, arguing the agency's discharge of aerial fire retardant into the nation's navigable waters violates the Clean Water Act. FSEEE is a nonprofit headquartered in Eugene Oregon comprised of current and former Forest Service employees and other citizens.
According to the suit, between 2012 and 2019, the Forest Service discharged retardant pollutant on at least 459 occasions totaling more than 761,000 gallons from aircraft directly into national forest navigable waters.
The suit calls fire retardant a pollutant, noting that the aerially delivered retardant formulations are primarily inorganic fertilizers (ammonium phosphates) or other inorganic salts (magnesium chloride), which are killing or damaging aquatic species and having adverse impacts on the waterways.
It also argues that the impacts go beyond environmental to include aesthetic, scientific and recreational impacts.
"FSEEE's members use and enjoy the National Forest System for outdoor pursuits of every kind, including scientific research, boating, backpacking, birdwatching, camping, climbing, fishing, hunting, and sightseeing. In their pursuit of these activities, our members rely on clean water," the suit states. "Degradation of water quality from aerial retardant harms FSEEE's members' use and enjoyment of national forests, including the forests' fish, wildlife, plants, and waters."
The suit, which asserts the group has "exhausted any available administrative remedies," seeks to halt the Forest Service from using the retardant on waterways, as well as costs and expenses from the suit.
FSEEE filed for summary judgement seeking a nationwide injunction against the aerial use of fire retardant in early January.
This week's motion argues that an injunction against the aerial fire retardant is not in the public interest and that the potential harm to communities if aerial fire-retardant drops are halted includes massive economic damages and potential losses of life.
"The aerial application of fire retardant is part of Forest Service's firefighting strategy, and it unquestionably reduces fire's rate of spread, intensity, and danger to the public," the motion states. "An injunction that removes this critical tool is certain to undermine health and safety and cause economic harm to communities and businesses navigating the constant threat of wildfire."
The hopeful intervenors argue that a small fraction of fire retardant reaches waters, and they note the Forest Service is actively working with the Environmental Protection Agency and state agencies on a general permit for the drops to satisfy any perceived conflicts with the Clean Water Act.
Matt Dias, president and CEO of the California Forestry Association, one of the groups that filed the motion, believes that losing the use of aerial fire retardant in a state like California would be a "tremendously large deal."
While firefighters will continue to be able to use tools like tenders, engines, manpower, and water drops, losing the ability to deploy the aerial retardant takes away a key tool to battle the types of large wildfires California has been experiencing more frequently in recent times, he argues.
"Without the ability to have retardant drops available when the conditions make it necessary thwarts the ability of the other tools that are deployed to be effective," Dias said.
He was unable to quantify just how much the use of aerial retardant contributes to fighting wildfires, but he said he couldn't overstate the impact of losing that capability.
"Without that tool in the toolbox, everything is at a much higher and eminent risk," he said. "Without it, the risk increases dramatically."
Dias worries that with just a few months to go until wildfire season, the injunction, if granted, puts states like California in a bad spot.
"We're only months away from fire season starting," he said. "If the courts do this, we're going to enter that season in a condition that is untenable."
Other groups on the motion include the California counties of Butte and Plumas, American Forest Resource Council, National Alliance of Forest Owners, Federal Forest Resource Coalition, Washington Forest Protection Association, and California Farm Bureau.
The case is Forest Service Employees for Environmental Ethics Vs. United State Forest Service (9:22-cv-00168-DLC).