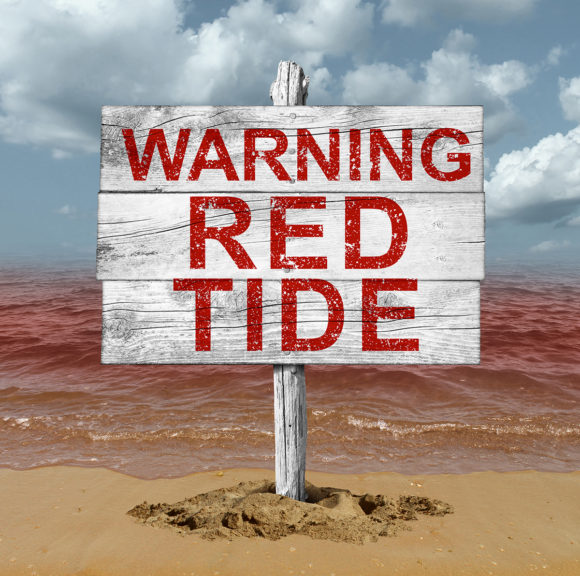 New

You can now listen to Insurance Journal articles!
Residents are complaining about burning eyes and breathing problems. Dead fish have washed up. A beachside festival has been canceled, even though it wasn't scheduled for another month. To add to the misery, a giant stretch of brown seaweed is coming soon to Florida's spring-breaking beaches.
The six-million-ton blob of smelly seaweed, perhaps a record amount, experts said, was spotted on radar east of the Caribbean and is expected to wash up on Florida's east coast and on other eastern states in coming days, the Miami Herald reported.
Florida's southwest coast already has experienced a flare-up of the toxic red tide algae this week, setting off concerns that it could continue to stick around for a while. The current bloom started in October.
The annual BeachFest in Indian Rocks Beach, Florida, sponsored by a homeowners' association, was canceled after it determined, with help from the city and the Pinellas County Health Department, that red tide likely would continue through the middle of next month when the festival was scheduled.
"Red Tide is currently present on the beach and is forecasted to remain in the area in the weeks to come," the Indian Rocks Beach Homeowners Association said in a letter to the public. "It is unfortunate that it had to be canceled but it is the best decision in the interest of public health."
Nearly two tons of debris, mainly dead fish, were cleared from Pinellas County beaches and brought to the landfill, county spokesperson Tony Fabrizio told the Tampa Bay Times. About 1,000 pounds (454 kilograms) of fish have been cleared from beaches in St. Pete Beach since the start of the month, Mandy Edmunds, a parks supervisor with the city, told the newspaper.
Red tide, a toxic algae bloom that occurs naturally in the Gulf of Mexico, is worsened by the presence of nutrients such as nitrogen in the water. The Florida Fish and Wildlife Conservation Commission warns people to not swim in or around red tide waters over the possibility of skin irritation, rashes and burning and sore eyes. People with asthma or lung disease should avoid beaches affected by the toxic algae.
The Florida Fish and Wildlife Conservation Commission on Friday reported that it had found red tide in 157 samples along Florida's Gulf Coast, with the strongest concentrations along Pinellas and Sarasota counties.
The seaweed, known scientifically as Sargassum, is expected to become heavier and more frequent in coming years, thanks in part to climate change, fertilizer runoff and dust from Africa, the Herald reported.
Copyright 2023 Associated Press. All rights reserved. This material may not be published, broadcast, rewritten or redistributed.
Topics
Florida
The most important insurance news,in your inbox every business day.
Get the insurance industry's trusted newsletter