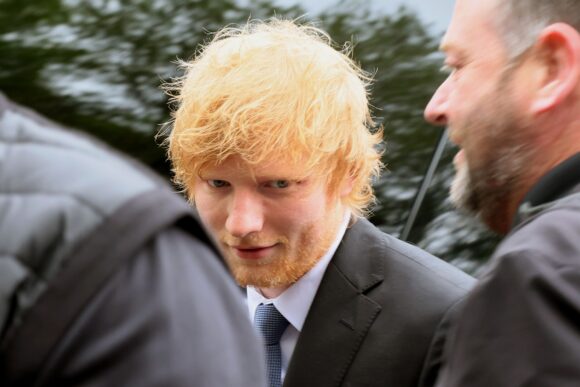 New

You can now listen to Insurance Journal articles!
Pop star Ed Sheeran won a closely watched trial over allegations that his 2014 Grammy-winning song Thinking Out Loud copied key musical elements from Marvin Gaye's classic 1973 soul groove Let's Get It On.
A federal jury in Manhattan rendered its verdict on Thursday. It's the second time Sheeran has defeated claims of copyright infringement. Last year, a UK court found that he didn't copy from another song to create his 2017 hit Shape of You.
Sheeran and his legal team were about to get lunch in the courthouse cafeteria on Thursday when they were summoned back up to court. He embraced members of his team when the verdict was announced.
High-Profile Trial
The latest high-profile copyright trial — which included Sheeran taking the stand and singing to the jury — was intently followed by a music industry that has seen an upswing in litigation over popular tracks in the past decade.
Judges and juries have been tasked with wading into often complex music theory and having to sort the testimony from competing musicologists about the similarities and differences between chord progressions.
The 2017 lawsuit against Sheeran dealt only with the underlying musical composition of the two songs, which includes the melody, chord progression and rhythm.
The jury in the latest case couldn't compare the sound recordings, but US District Judge Louis Stanton did allow plaintiff's attorney Ben Crump to play a video that showed Sheeran seamlessly transitioning between the songs during a live performance. Crump called the video a "smoking gun" that proved Sheeran lifted from the Motown classic.
Weaving Between Songs
Sheeran testified that it's easy to weave between songs and that he was inspired to create Thinking Out Loud by discussions with his writing partner Amy Wadge, who wasn't named as a defendant.
Sheeran's attorney Ilene Farkas argued that the songs have very different melodies and lyrics and that the similar chord progressions are found in many other popular songs from bands like the Beach Boys and the Beatles.
"The music will stop" if the plaintiffs can claim ownership of chord progressions, Farkas said at closing arguments. "Nothing will be left for songwriters to write."
Sheeran is still facing two other lawsuits over Let's Get It On, which were brought by a company that purchased royalty rights to Gaye's song.
The case is Griffin v. Sheeran, 17-cv-05221, US District Court, Southern District of New York (Manhattan).
Photo: Musician Ed Sheeran arrives at Manhattan federal court in New York on May 4 (Bloomberg).
Copyright 2023 Bloomberg.
The most important insurance news,in your inbox every business day.
Get the insurance industry's trusted newsletter