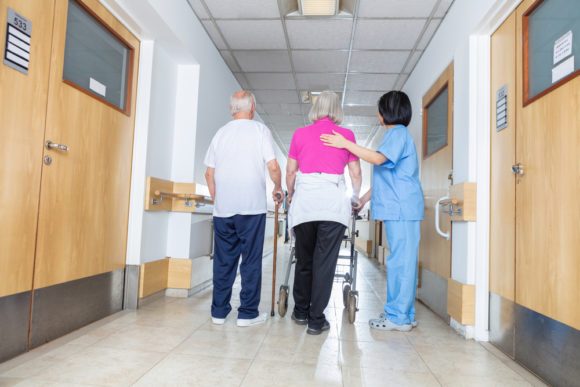 A Southern California residential care home company and three of its managers have been charged in connection with 14 COVID-related deaths at one of its facilities three years ago, prosecutors said.
The criminal complaint alleges Silverado Senior Living Management failed to follow appropriate safety procedures when admitting a new resident to its Beverly Place facility in Los Angeles in March 2020.
The resident arrived from New York City, "which was a COVID-19 epicenter at the time" and was not properly screened upon arrival or placed in isolation after later testing positive for the virus, Los Angeles County District Attorney George Gascón said in a statement.
"These careless decisions created conditions that needlessly exposed Silverado staff and its residents to serious injury and – tragically – death," Gascón said.
An outbreak at the Beverly Place facility led to the deaths of 14 people ranging in age from 32 to 94, prosecutors said. In addition, 45 employees and 60 residents were sickened, according to the court filing.
Silverado Senior Living Management and three of its managers each face 13 felony counts of elder endangerment and five felony counts of violations causing death, according the DA's statement.
Officials with Silverado didn't immediately respond to phone calls seeking comment on the charges. The Irvine-based firm manages care facilities across Southern California.
Copyright 2023 Associated Press. All rights reserved. This material may not be published, broadcast, rewritten or redistributed.
Topics
California
COVID-19
Was this article valuable?
Here are more articles you may enjoy.
Interested in Covid 19?
Get automatic alerts for this topic.