Burns & Wilcox added California-based Joe Jurkovich and promoted Tom Carvalho and Evan Hudson.
Jurkovich joins as associate managing director, where he oversees the Fresno office's day-to-day operations and growth strategy. He has nine years of industry experience, and most recently worked at Deans & Homer, where he was an underwriter and branch manager.
Carvalho, senior personal insurance underwriter, is now associate managing director, helping to oversee the San Francisco office's day-to-day operations while continuing to grow his personal insurance business. Carvalho began his career at Burns & Wilcox as an underwriting administrator more than a decade ago, providing leadership for the San Francisco and San Diego offices.
Hudson, senior commercial underwriter, has been promoted to commercial manager, contract/binding markets, leading contract binding relationships for the San Francisco office. Hudson has more than a decade of commercial insurance underwriting and brokering experience at Burns & Wilcox serving markets like construction, manufacturing, distribution and habitational.
Burns & Wilcox is a wholesale insurance brokerage.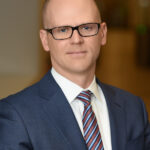 Holmes Murphy named Matt Pickett employee benefits sales leader for its Denver, Colorado, and Phoenix, Arizona, markets.
Pickett has experience in employee benefits and healthcare, and we was recently vice president of sales for Collective Health in Denver. Pickett also spent time with Anthem Blue Cross Blue Shield, Cigna, and Aetna in sales and leadership roles.
Was this article valuable?
Here are more articles you may enjoy.
The most important insurance news,in your inbox every business day.
Get the insurance industry's trusted newsletter