Charles Symington has been appointed to the role of executive vice president at the Independent Insurance Agents & Brokers of America (the Big I), effective Oct. 1.
Symington joined the Big I in 2004 on the government affairs staff. Since 2016, he has served as senior vice president for external, industry and government affairs. He was named the successor to current president and CEO Bob Rusbuldt, who will retire on Aug. 31, 2023.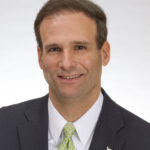 The Big I said Symington's new title is an interim role as he prepares to take over as the top executive on Sept. 1, 2023.
Big I President & CEO Rusbuldt to Retire Next Year
"I speak for the Big I Executive Committee and entire Board of Directors in saying that we are excited to work with Charles in this new position over the next year, and then as president & CEO after that," said Big I chairman John Costello of USI Insurance Services in Rochester, New York. "Charles brings so much wisdom and experience to this new role and he will be well prepared to take over the helm of the national association next fall, ensuring a smooth transition when Bob Rusbuldt steps down."
As executive vice president, Symington will play an integral role in the day-to-day operations of the national association and in various initiatives with the Big I state associations and other affiliate organizations. He will also continue to serve on the Big I Management Operating Committee, which advises the president & CEO on general oversight and administration of the association.
Under Symington's leadership, the Big I has had numerous legislative wins, including securing substantial small business tax relief, defending a modernized state regulatory system for insurance, preserving an effective Federal Crop Insurance Program and extending the Terrorism Risk Insurance Act (TRIA).
"Charles and I have worked together at the Big I for more than 18 years, and our history goes back even further to when Charles worked on Capitol Hill on key insurance legislation," Rusbuldt says. "Over the next year, we will be taking on many important priorities for independent agents and brokers across the country. There are few who know the independent agent channel and understand its unique needs better than Charles, and we will be able to steer this association together toward a seamless leadership transition. I look forward to leaving the reins of the Big I in his very capable hands."
Topics
Agencies
Was this article valuable?
Here are more articles you may enjoy.
Interested in Agencies?
Get automatic alerts for this topic.