Insurance
Amwins Program Underwriters Brings New Talent to Waste Haulers Underwriting Team
Amwins Program Underwriters (APU), an operating company within the Amwins Underwriting division, has been busy over the last 18 months bringing in new underwriting perspectives to the long-standing Waste Haulers program.
Established over 35 years ago, APU's Waste Haulers program is one of the last-remaining national programs offering comprehensive coverage for the non-hazardous waste transportation industry. The program offers competitive rates, coverage on an admitted or non-admitted basis, and excess limits of up to $5M. Well-known and respected in the industry, the Waste Haulers program has benefitted from partnering with the same carrier for more than ten years.
Many agents and brokers don't realize APU's Waste Haulers program writes more than just waste haulers. The program's underwriting box is open to classes of business such as construction and demolition debris collection, separation and transport, portable toilets, roll-off bin and dumpster rentals, and septic services. In fact, the program's underwriters excel at placing complex accounts.
Below is a sample of recent accounts for the Waste Haulers program.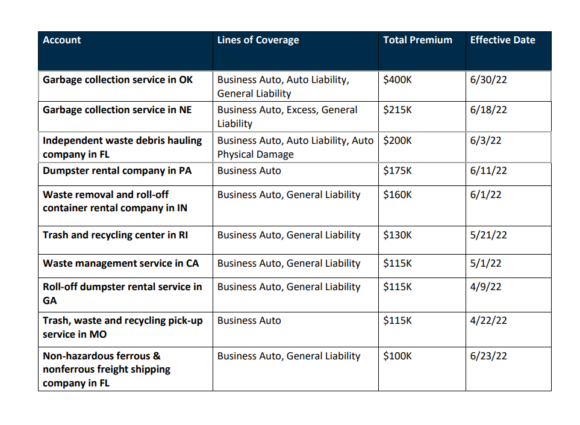 The Amwins Underwriting division is heavily invested in our people and our products. We combine best in class underwriting expertise and solutions delivering to our clients what they deserve – proper protection when they need it most. Our niche programs are led by underwriters who are laser focused on their trade. The result? Data-backed, results-driven underwriting that's always on point.
During a period of reenergizing our Waste Haulers program, the following industry experts have joined our team. This experienced team of underwriters will continue the program's path of growth and success:
Collectively, this group of professionals has over 50 years of underwriting experience, and previous commercial lines underwriting roles include management of small and large hazardous and non-hazardous transportation books of business. We are excited to bring fresh, specialized underwriting expertise to the Waste Haulers program and remain committed to supporting the industry for the long-haul.
Interested in learning how we can serve up a solution for your client? Please visit the Waste Haulers website for further details or to connect with one of the program underwriters.
Interested in Talent?
Get automatic alerts for this topic.