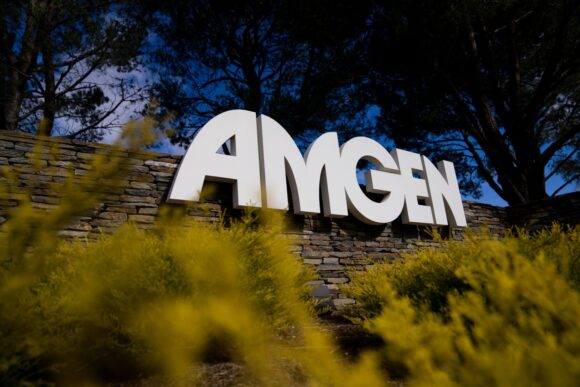 Amgen Inc. misled investors about its financial health by failing to reveal that it may be on the hook for more than $10 billion in back taxes and penalties, a pension fund claimed in a lawsuit.
The Internal Revenue Service notified the pharmaceutical giant in 2017 that it owed $3.6 billion in back taxes for the years 2010 to 2012 and demanded $5.1 billion more for the years 2013 to 2015 in 2020, according to the proposed class-action lawsuit filed Monday in Manhattan federal court.
Under federal rules, publicly traded companies are required to disclose adverse financial situations to investors. But the company waited until an earnings report in August 2021 before saying anything about the potentially massive tax bill and only disclosed the amount the IRS claimed for the tax years 2010 to 2012, the Detroit-based United Union of Roofers, Waterproofers and Allied Workers, Local 149, said in its complaint.
Amgen shares dropped 6.5% on the news, according to the suit.
Amgen didn't tell investors about its alleged delinquency for the 2013 t0 2015 tax years until April 2022, the investor say. In addition to the $5.1 billion, the IRS was also seeking interest and a $2 billion penalty, according to the lawsuit.
Lawyers for the pension fund say the company's failure to disclose the tax dispute caused Amgen stock to trade at artificially inflated prices — "ultimately causing investors to suffer hundreds of millions of dollars in losses."
Amgen contested the IRS assessment for 2010 to 2012 tax bill in the US tax court and has said it will also contest the bill for the subsequent years. The dispute is over how the company allocates profit between its entities in Puerto Rico and in the mainland US.
Amgen declined to comment on the lawsuit.
The suit also names Amgen Chief Executive Officer Robert A. Bradway and Chief Financial Officer Peter H.Griffith.
The case is Roofers Local No. 149 Pension Fund v. Amgen Inc., 1:23-cv-02138, US District Court, Southern District of New York (Manhattan).
Photograph: Amgen headquarters in Thousand Oaks, Calif., on Monday, Dec. 12, 2022. Photo credit: Eric Thayer/Bloomberg
Copyright 2023 Bloomberg.
Topics
Lawsuits
Interested in Lawsuits?
Get automatic alerts for this topic.